Christmas Cards: A Holiday Tradition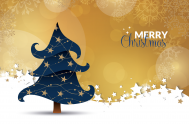 It's easy to tell when the holiday season is approaching. Christmas trees, Christmas lights on houses, snowfall, and, of course, crazy sales going on in every store you enter. Another sign the season is on its way? Getting Christmas cards in the mail.
The history of sending Christmas cards dates back to 1843. John Callcott Horsley illustrated a card for Sir Henry Cole and the tradition was born. Even though often known as Christmas cards, the sentiment for sending holiday greetings isn't restricted to Christians. There are "Happy Holidays" cards and some dedicated to other holidays during the season. Also, lots of people opt to send "Happy New Year" cards, or at least add the sentiment to their Christmas cards.
There is a wide variety of Christmas cards available. There are religious cards depicting the reason for the season. These cards often include the nativity scene or other photos and messages dedicated to the birth of Christ. Oftentimes, the cards are red and green. Blue, purple, silver, and gold are also popular holiday colors. Themes include holiday decorations, Christmas trees, scenes of winter wonderlands, and, of course, Santa Claus. Cards range from glitzy and modern to traditional and scripted.
Another popular tradition for Christmas cards? Photo cards. Christmas cards can be designed online and you have the option to add one or a couple digital photos. It's a great way to give out updated photos of your family to other loved ones. Many people also choose to update their loved ones about big events that have happened during the year. They compose a letter to let people know about special milestones their kids have had, new things going on in their life or job, and share about pets or vacations. Oftentimes, this becomes a tradition and people come to look for updated photo Christmas cards or letters each December.
Sending Christmas cards do require investing a little time, whether designing cards, writing notes, or just addressing envelopes. However, loved ones will come to love receiving your special card each year. Plus, when you visit Aunt Shirley you don't want to be the only one without a card up on the fireplace.